Engineering graduates require an ever- increasing range of skills to maintain the balance between the global environment and the new millennium and communication skills are a major component of this serenity. The competence of English language plays a significant role in Engineering students' academic life and Professional career. We cannot deny that the ability to speak, read and write in English affects research, collaborations, instructions and thus the overall success of an engineer.
The importance of English language competence in every sphere of the professional life of an engineer for his successful future insisting that the engineering students should focus on English learning and be fluent with English communication skills is discussed here: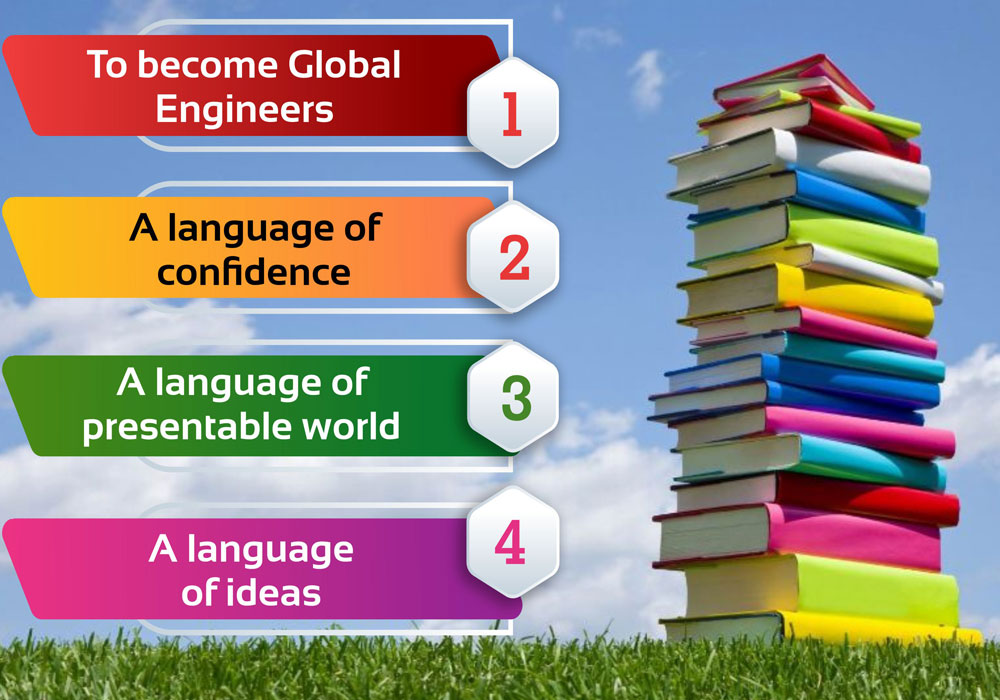 To become Global Engineers
– Globalization has directly affected the industrial demands and a global engineer must be able to easily cross national and cultural boundaries. Effective communication skills are the basic requirement for engineers who aspire to carry out their professional practice in the global arena. English being the predominant language serves the purpose of communication for exchanging ideas and thoughts, therefore stand outs as a medium to connect world through technology.
A language of confidence
– English has become one of the most promising language in terms of professional communication. In this era of globalization where the number of international projects are increasing and cross-cultural communications and collaborations are on its rise a personality which stands out with confidence is a must. A command over your language enhances the communication skills and boosts your confidence which outshines your personality.
A language of presentable world.
– In the golden era of development engineers have to maintain themselves according to the current scenario. Today's world demand ideas not on papers but through presentations. Efficient communication skills and fluency in speech are the basic requirements to give an effective presentation. The one having a command over his language will always outshine among the rest. Thereby, this makes learning English even more important for engineering aspirants.
A language of ideas
– It is rightly said that communicating ideas is the first step towards progress. A correct language gives your ideas the right shape and leads them towards reality. In this era of technology when English is the predominant language for communication one needs to hold a control over the language to communicate their ideas and thoughts throughout the globe. As they say a sharp tongue always makes you shine brighter than the rest.
It is righty said that our language is the limit to our world. Learning the efficiency to read write and speak English connects you to the global world. As aspiring engineers let your ideas flow breaking the barriers of language and shine in the world of technologies with Dronacharya Group of Institutions , Greater Noida.
 Written By: Sakshi Shukla  (Student of Dronacharya Group of Institutions)